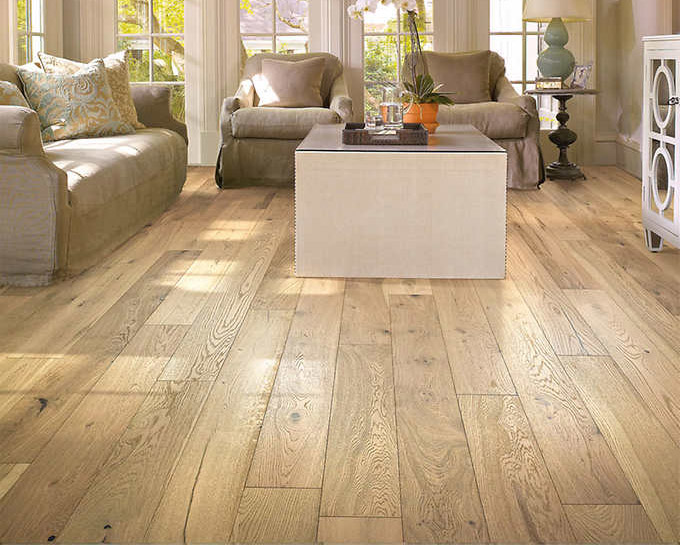 Getting the right flooring for your home or office means getting the right information. Unless you know your facts, it's nearly impossible to make the correct choice. This is especially true when it comes to flooring. Not only are there many choices from which to choose, but the decision you make will be a lasting one. For these reasons, we at Flooring Liquidators want to make sure your flooring selection is one that is based on reliable information. In doing so, you will be more likely to not only choose the look and style of flooring you want but a choice that meets all of your flooring needs as well. 
With this in mind, one of the most popular flooring selections today is laminate flooring. However, many misconceptions about laminate flooring exist that involve a number of aspects about its performance, appearance, and cost. While laminate flooring may not be the right choice for every situation, it is often a perfect option for many. Therefore, it's only fair that we "debunk" some of the most common myths that surround laminate flooring. In this way, you can make your own informed decision whether laminate flooring is ideal for your home or office.
The 5 Most Common Laminate Flooring Myths
When you're considering any type of flooring, there are some questions that should always be asked before making your final flooring decision. Questions about a flooring's durability, level of water resistance, and of course, price are essential in order to make the best flooring selection. Likewise, asking about repair or replacement requirements is also a good idea. Understanding this, the following addresses these questions as they pertain to laminate flooring, and in the process, help eliminate many misperceptions that surround this type of flooring.
Myth 1 – Laminate Flooring Is Not Very Durable
Laminate flooring is not the most water-resistant flooring, but it is highly durable. In fact, laminate flooring is actually more scratch and dent resistant than most hardwoods. Laminate flooring is composed of 4 layers that include the base, substrate, pattern, and wear layers. Because of this, and because of major advances in the wear layer specifically, laminate flooring is one of the most durable floorings around. With the right care, these floors routinely last many years while retaining their beautiful appearance.
Myth 2 – Laminate Flooring Is Cumbersome to Clean
Unlike hardwood floors and some other flooring types, laminate flooring is tightly installed leaving a smooth and seamless surface. As a result, dust and particles cannot get trapped in between laminate flooring planks. This not only creates a wonderful appearance but also makes cleaning simple and easy. Using a dust mop, vacuum, or damp cloth over the surface every few days is all it takes to keep your laminate flooring looking its best.
Myth 3 – Laminate Flooring Looks Fake and Cheap
Decades ago, this myth pertaining to laminate flooring might have been more accurate…but not today. Major improvements in digital imaging and the embossing process allows laminate flooring to look identical to hardwood, stone, marble, or ceramic tile. Likewise, the finishing of laminate flooring ranges from a flat finish to a distressed look, which is becoming increasingly popular. With a variety of high-quality styles, textures, and designs, laminate flooring's appearance is anything but cheap.
Myth 4 – Laminate Flooring Costs a Lot to Repair
As described, laminate flooring consists of individual planks that have incredible durability. But if damage should occur, repairing a laminate floor is simple and fast. For many scratches, a wax pencil may be all that is required to make your laminate floor look brand new. But even if the damage is more severe, individual planks can be easily removed and replaced at minimal cost. Because the base layer is not glued or fixed to the sub flooring, replacing a laminate flooring plank is quick and easy. With this in mind, it's always a good idea to purchase some extra planks to have on hand.
Myth 5 – Laminate Flooring Is Expensive
With all the benefits and desirable features that laminate flooring offers, you might think it is among the most expensive floorings available. But this couldn't be farther from the truth. In fact, laminate flooring is a great cost alternative to carpet, tile and hardwood in the majority of cases. While prices range depending on the design and type of laminate flooring ordered, laminate flooring remains one of the most affordable and attractive options available.
Let Us Help You Choose the Right Flooring for Your Home or Office
If laminate flooring sounds like the right type of flooring for you, then let us at Flooring Liquidators help you select the specific design and style to meet your needs. We order flooring on demand according to your specific request, and we offer the best flooring prices throughout the Tampa Bay area. And even if laminate flooring doesn't appeal to you, we offer all types of flooring including hardwood, luxury vinyl, and tile. Come visit us today in our Seminole or Largo locations, and let us help you choose the perfect flooring for your home or office.