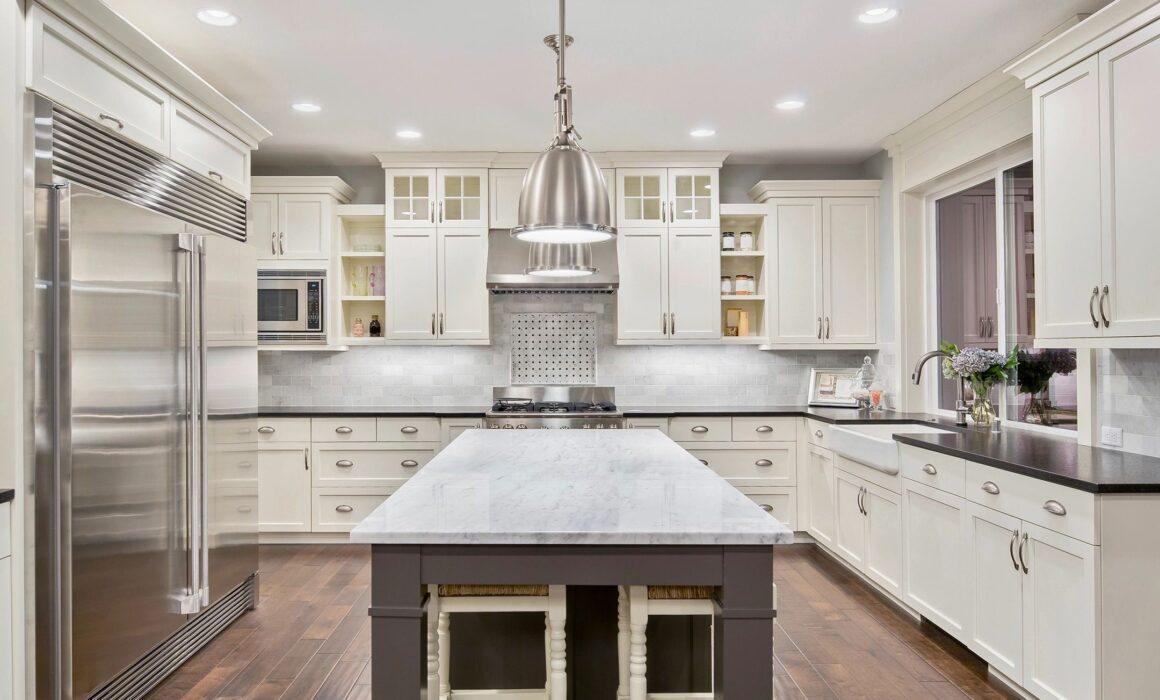 The kitchen is where it's all at. It's where we gather with friends and family. It's the place of the weekday dinner prep while the kids do their homework at the table. It's the place for getting out the fancy dinner plates to celebrate a special occasion. The kitchen is where we eat, work, and talk.
So, if your kitchen is the most important room in your house, doesn't it deserve a little TLC?
"Everything happens in the kitchen. Life happens in the kitchen."
– Chef Andrew Zimmern
Would you love a more functional or stylish kitchen but don't know where to start? Perhaps you dream of a show kitchen but don't have the budget to change everything. Let's make a kitchen wish list…
Countertops
As well as being unsightly, scratches, rips, and tears in kitchen countertops can harbor germs and bacteria. This is especially true when handling raw meat. No matter how much you clean, dirt and grime will hide in countertop cracks.
Day after day, we can get tired of looking at our old countertops. That's why we're adding marble, granite, and wood countertops to our kitchen wish list.
Tiles and grout
After time, tiles can crack, and grout can become darker. Often, what we thought would look good years ago seems dated now, or we bought a house and don't share the taste with the previous owner.
Freshening up tiles and grout on floors and walls can breathe fresh life into our kitchen. Waterproof luxury vinyl is also a fantastic option for kitchen floors and is affordable, resistant to spills, and easy to maintain.
Backsplashes
There are only so many pasta sauce splashes that your walls can take before the wet cloth gives up the fight and the paint tin comes out again. Chances are, if you're stirring a pot at the hob next to a bare wall, you've got tile backsplashes on your kitchen wish list. They're easy to wipe and ensure that wall-stains are a thing of the past.
Hardware
Sometimes it's not necessary to replace entire kitchen cabinets. If you'd like to spruce up your cabinets, an effective and affordable option is to upgrade the hardware. Modern handles and knobs give an updated look to drawers and cabinets, at a fraction of the cost.
Faucet
A leaky faucet can drive you nuts and leave water marks on your sink and countertop. If your faucet is not working well, is rusted, or simply looks dated, opting for a new one is a simple and cost-effective way to inject a new look.
More storage
Running out of storage for food, glasses, and plates? Is there a Tupperware avalanche when you open the top cabinet? Additional wall cabinets or an island is the ideal solution. This will free up cluttered countertops, giving a clean line, and allow you to tidy away blenders and equipment, leaving more space for food prep. Additional drawers are great for keeping cutlery, whisks, rolling pins, pots, and pans.
"If you can organize your kitchen, you can organize your life."
– Louis Parrish, author of "Cooking is Therapy"
Decisions, decisions…
When it comes to the kitchen, the good news is that you're spoiled for choice. The bad news is that… well, you're spoiled for choice.
While it's less disruptive to change your full kitchen all in one go, some prefer to do it in stages. Your starting point is to decide what style you like, by visiting kitchen showrooms and looking at magazines for inspiration. Do you prefer all white, country kitchen, farmhouse, modern, or traditional?
Next, determine your priorities. Is storage space, food prep functionality, or entertaining important to you? Finally, debate the must-haves with the nice to haves.
A little pro-tip when it comes to color: it's best to opt for neutral countertops, cabinets, and flooring and if you want a pop of color, go for accessories such as the kettle and toaster which can be changed easily.
Dream a little…
So, whether you're planning a few small upgrades or a major overhaul, we've got everything you need to get your kitchen project into action. Let's imagine what your dream kitchen looks like, discuss the budget, and then make that kitchen dream come true.
Get in touch for expert, friendly help. We're excited to see your wish list.