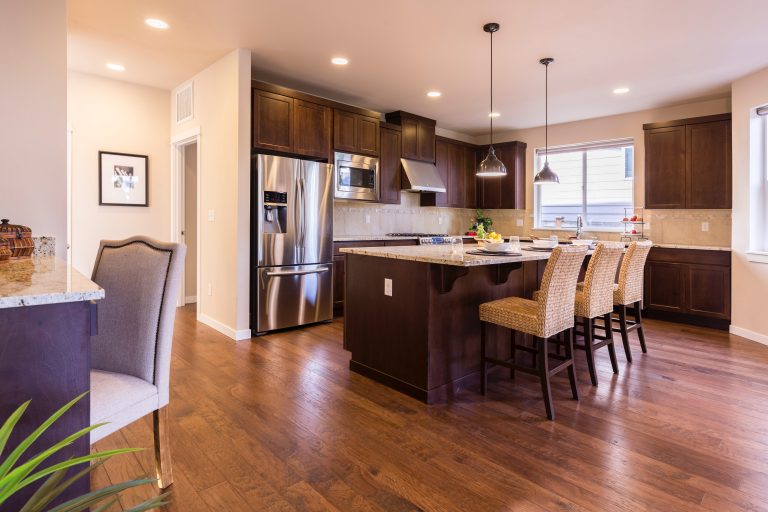 Why September is the perfect month to enhance your interior with new floors.
When it comes to replacing the flooring in your home, it may seem like there's never a great time to take the plunge. Life often gets in the way and our schedules seem far too busy. Believe it or not, September offers one of the best times of year to elevate your home's flooring! Whether it is picking flooring options and designs for a new home or replacing your existing flooring, the fall season offers a period of the year when you are most likely to make your best decisions and get the best deals.  
Choosing to make a flooring change in September allows plenty of time before you are faced with the hustle and bustle of the holidays plus children are busy with school just starting up again. Between studying, going to practice, and spending time with friends, your children will most likely be out of the house, which is perfect for a friendly crew to come in and install your new floor following an enjoyable visit to either of our locations. The time for procrastinating is over and now it is time to get going! Here's why our team at Flooring Liquidators believes that September is game-time for changing your floors for the better!
Children Are Out and About
By September, kids are back in school and that means that the amount of traffic in your home on any given day is less. They'll be studying up on history or practicing soccer while you are getting into the swing of another school year. During September, you likely have fewer gatherings and festivities in your home, which means that fewer people will be moving about! Whether you are choosing to replace your flooring or put an additional layer down, this time of year is as good as it gets and we are here to assist you every step of the way.
You Have the Power to Think
We understand that selecting the right flooring for your home is a major decision. Not only is it something that can be a major financial investment, but your flooring is something you will live with for at least 25-30 years. September is the perfect month for flooring because it allows you more time to pick and choose which options are right for you without the pressure of the holidays or summer being right around the corner. Plus, September is also a month where great deals on flooring often exist! Keep your eyes peeled on those deals!
Installation Stress Be Gone
One of the main reasons why September is primetime for flooring is because it is several months before the holiday season strikes. Installation decisions can be arranged with less time pressure or stress. It is understandable that you may want to rush in order to minimize inconveniences but there is nothing quite like having the luxury of performing your floor installation in stages. Coming right off of a hot and exciting summer, this is the perfect way to tune down the pace just a tad.
Holiday Decor to Match the Floor
The type and design of the flooring you choose directly impacts other home choices! This is likely to be the case when decorating your home for the holidays. By choosing the type of flooring for your home in September, you will enjoy plenty of time to pick matching decorations for the holidays. When combined, this will make your holiday season more festive and will allow you to appreciate your flooring that much more.
Great Deals and Great Advice, the Flooring Liquidators Way
When it comes to choosing the right flooring for your Florida home, our Flooring Liquidators team can offer a wealth of knowledge and insights. Some key factors that you will need to specifically consider in Florida are the pervasive humidity and moisture. Also, the cost of materials, cost of maintenance, and other factors like durability and aesthetics should be important parts of your flooring decisions. In each of these areas, we have tremendous expertise and can help you select the right floor to fit your lifestyle and your tastes.
If you're considering new flooring, September is certainly a great month to make a choice. Numerous options exist offering a variety of advantages for today's Florida homeowner. High-pressure laminate, luxury vinyl, porcelain tile, and engineered hardwoods are just some of the great flooring options available! Come in and see us at Flooring Liquidators so we can help educate you on the various flooring choices. Whether you choose to visit us in our Seminole or Largo locations, we can make sure you have all the details so you choose the right flooring the first time around. 
For any questions regarding flooring, installations, or our products, contact us today!