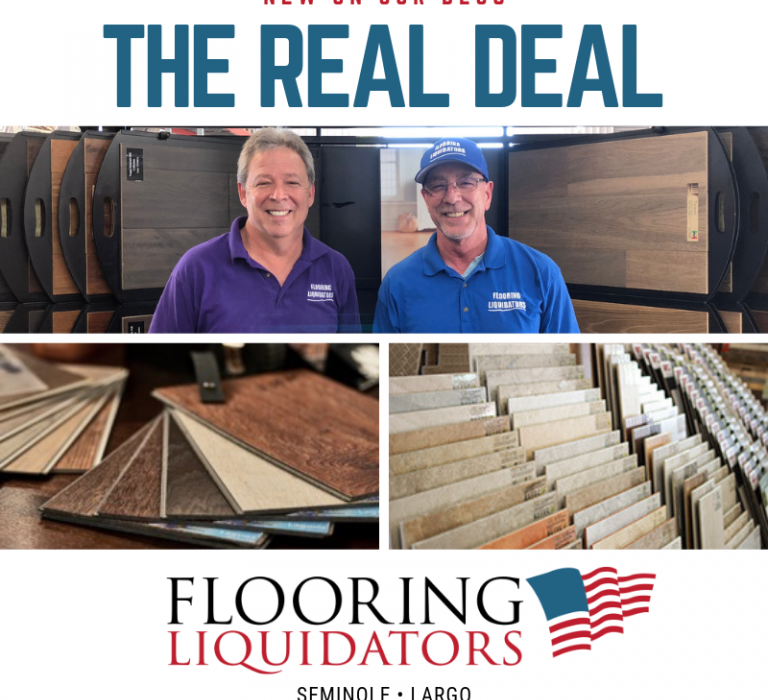 The Real Deal When It Comes to Meeting Customers' Needs
If you live anywhere in Pinellas County, you likely know about Flooring Liquidators. In addition to being in business since 2005, our family-owned company is a cornerstone of the community. For over two decades, Flooring Liquidators has not only excelled in meeting customers' flooring needs, but we continue to grow in the process. And as a referral-based company, you can be assured such durability is proof that we take tremendous pride in what we do. 
But who is Flooring Liquidators, and why do we remain the best regional flooring company in this era of "big-box" hardware chains? Is it because of our experience and expertise? Perhaps, it is because we consistently offer the highest quality flooring at the lowest price. Or maybe it's simply our commitment to excellence and customer service. Each of these factors play a role in our success, and we are honored to still serve our area communities well. As a result, we would like to take a moment and re-introduce ourselves so you can appreciate the dedication and quality of flooring products and services that we provide.
Flooring Liquidators – Decades and Decades of Experience and Expertise
If anyone knows the flooring industry, it is Flooring Liquidators' owner, Ron Favetta. Ron has been in flooring since 1982 offering nearly 4 decades of experience and expertise. Not only is he well adept at understanding the nuances of different types of flooring options, he also appreciates the entire process. From sales, to estimates, to distribution, to installation, Ron Favetta has been involved in all aspects of the flooring industry. He along with his brothers, Joe and Chip, represent a tremendous reason why Flooring Liquidators continues to succeed.
Flooring Liquidators' expertise and experience doesn't stop there, however. Michael Anderson, who operates the Largo store with his wife Marilyn, has been in the flooring industry for even longer than Ron. A flooring veteran since 1977, Michael also has tremendous knowledge when it comes to flooring types and profiles. And Michael understands flooring installation at the highest level. When you choose Flooring Liquidators, this is the type of in-depth wisdom you are certain to enjoy.
Maximizing Customer Value – High Quality Flooring at the Lowest Possible Price
When it comes to flooring, customers naturally want the best quality at the lowest price. But achieving this can be challenging for any flooring business. At Flooring Liquidators, however, we have found a way to do just that. In terms of quality, Ron and his team have long standing relationships with major flooring distributors and know which products offer the best value. As a result, they can not only help guide you in the exact type of flooring to meet your needs, but also find the best deals when customizing your order.
Of course, distributor prices and product selection are just a couple of ways that we are able to keep quality high and prices low. Flooring Liquidators doesn't boast fancy showrooms, a dedicated sales force, or keep a large inventory of flooring. These drive up the cost of business, which is usually passed along to the customer. Instead, we at Flooring Liquidators are able to keep costs low by customizing orders on demand. At the same time, Ron and his team provide all of our services ranging from obligation-free estimates, to sales, to installation referrals. All of this allows us to pass along savings onto our customers while providing the exact, high-quality flooring product you need.
Unparalleled Excellence in Customer Care and Service
Many flooring companies have a dedicated sales team who is knowledgeable about various types of flooring. But when it comes to providing accurate estimates or ensuring the job is done well, things might fall through the cracks. This doesn't occur at Flooring Liquidators because each of our staff is both knowledgeable and dedicated to meeting customers' needs. The person providing the flooring estimate is the same person who will be overseeing the flooring products being ordered and customized. This enhances customer service greatly.
But commitment and start-to-finish customer service is not the only reason that Flooring Liquidators excels in this area. Since 2005, Flooring Liquidators relies on word-of-mouth and customer referrals for its ongoing growth. Failing to provide our customers the type of products and services they need would undermine our business. And we certainly would not have been successful for the last 14 years if customer service was not a top priority for us.
Flooring Liquidators Is Here to Meet Your Flooring Needs
Since our beginning, we have strived to meet the flooring needs of Pinellas County and the surrounding areas. Today, these areas include Hillsborough and Pasco Counties as well. And we have expanded our locations to include both Seminole and Largo offices to better meet growing demand. If you know about Flooring Liquidators, then you appreciate the value and services we provide in flooring. And if you haven't heard of us, please visit us to experience the best in flooring products, prices, and services. We would be honored to exceed your expectations time and time again.