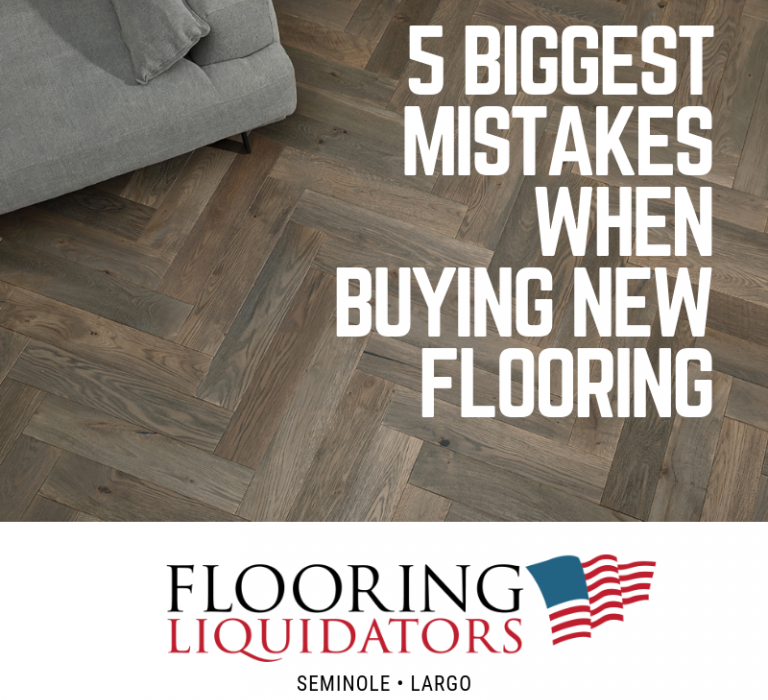 Whether buying a new home or remodeling your existing floors, the decisions you make about your purchase deserve serious considerations. After all, in most cases, the flooring styles you choose will likely stick with you for years. For this reason, knowing how to best choose your flooring while avoiding some of the most common pitfalls is important. And we at Flooring Liquidators would like to help you make the best flooring decisions possible. 
While a number of potential mistakes might be made when choosing a flooring style, some are more common than others. By avoiding these missteps, you can not only save yourself many headaches, but you can likewise save precious time and money in the process. With this in mind, the following represent the five most common mistakes people make when buying new flooring.
Letting Price Be the Driving Factor – Saving money is something we all strive to do, and paying attention to price is certainly important. But sometimes, making a selection based on price alone can come back to haunt you later. In fact, you could even spend much more in the long term when choosing the least expensive flooring product without considering other factors. At Flooring Liquidators, we not only have the lowest cost flooring, but we also pride ourselves on offering the highest quality flooring as well. We know how to help you get the most value from your flooring decisions in both the short term and the long term.
Poorly Matching Lifestyle to Flooring Type – Do you have pets? Do you throw parties often? Do you have children and host the neighborhood sleepovers most of the time? How you answer these types of questions (and more) can greatly help you in choosing the flooring style best for your home. A large variety of flooring options exist today, and each has its own set of pros and cons. But choosing one that matches your lifestyle the best will help ensure your flooring's longevity, durability, and aesthetic appeal. This is where we at Flooring Liquidators can also help guide you in making the right flooring choice.
Making Bad Warranty Decisions – Not uncommonly, flooring centers will promote sales based on warranty features of a flooring product. But there is something you may not realize. Warranties do not typically cover normal wear and tear of your flooring. Most flooring warranties only cover manufacturing defects, which are usually revealed within a few months after installation. Therefore, spending extra for a long-term warranty is may not be in your best interest since it can be money poorly spent. By having a clear understanding about what a warranty does and does not cover, you will be better able to make the better decisions about the flooring you purchase.
Taking Shortcuts on Flooring Installation – Even if you select the highest quality flooring, one of the most common mistakes can involve poor installation. Whether you choose to install the flooring yourself, or if you choose an installation professional, make sure the installation is done according to the product manufacturer's standards. At Flooring Liquidators, both Ron Favetta and Michael Anderson have over 4 decades of flooring experience, and they can help refer you to the right installation professionals in the area. By making sure your flooring installation is done correctly, you can ensure that you are making good flooring decisions from start to finish.
Not Having Good Flooring Information – All decisions demand that you have the right information at the time, and flooring decisions are no different. As mentioned, all flooring types have advantages and disadvantages. Therefore, having a good understanding how different flooring choices might serve you is essential in making a great decision. As a value-driven, family-owned flooring company, we pride ourselves in educating our customers to the fullest extent about their flooring options. This helps ensure you will be in the best position to make the right flooring selection.
Let Us Help You Make the Right Flooring Decisions
At Flooring Liquidators, we offer high quality flooring at the lowest prices while making sure each of our customers receives exceptional advice and service. From obligation-free estimates to installation service referrals, we can help guide you in your decisions when selecting flooring for your home. And at the same time, we can answer any questions you have about specific flooring styles. With our wealth of flooring knowledge and decades of experience, we would love to be your flooring resource. Come visit us in our Seminole or Largo locations so we can help you avoid some of the common mistakes people make when choosing flooring.