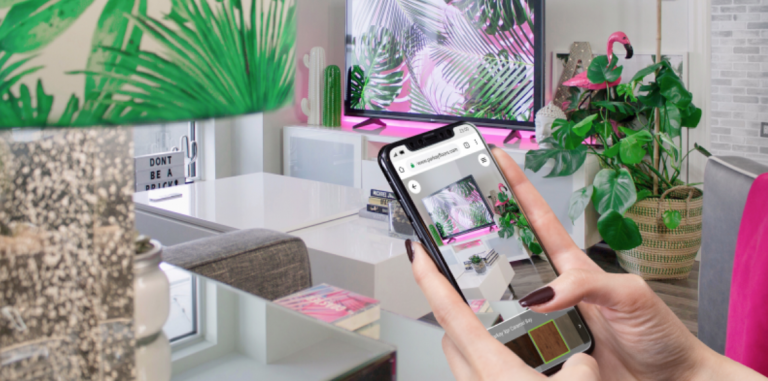 Planning your Dream Floors
Are you dreaming of new flooring? Goodness knows that we're all spending more time at home these days, so it's the perfect time to start planning.   
Is it time for a change? Are you noticing the scratches and the wear and tear? Or are you just tired of looking at the same old floors? New floors would make the world of difference. Sounds like it's time to update your home, and refresh your space with some new flooring.
But wait. What if you choose the wrong one?
Don't worry. No need to stress, and no need to hire an interior designer to tell you what works well. The solution is the Room Visualizer Tool –  it makes reimagining and refreshing homes straightforward. You can see what your room will look like with various flooring options, and have fun exploring the different colors and collections.
So, what are you waiting for?
Here's a simple guide to using the Room Visualizer Tool and downloadable resources.
Pick a room that you'd like to refresh

Take a photo of the room using the Room Visualizer Tool

Click on various flooring products to change the look – have fun exploring various products and colors. 

Click the heart icon to add an option to your favorites list, and take note of the name of the flooring you prefer.
Alternatively, use the Room Visualizer Tool to play around with the flooring options in the rooms already loaded, such as the 'bright living room; 'family room,' 'new home' or 'foyer.'
Will you choose hardwood, laminate, waterproof or tile? Will you opt for water and pet proof floors, meeting environmental standards and keeping your home beautiful and healthy? Our waterproof luxury vinyl is a bestseller. We have a wide range of shades to suit your home. 
Explore tones.
You can achieve a variety of looks to transform your home with flooring shades ranging from snowy white to deep mahogany, and everything in between. Using the Room Visualizer Tool, you'll see which suits your room best – whites, naturals, browns, reds, darks or grays.
You're spoiled with choices, but we're standing by to help you plan the perfect flooring for your home. Once you've decided on the right flooring for you, give us a call and we will be delighted to help make your flooring dreams a reality.
We're your trusted local flooring experts. Offering friendly and professional advice since 2005 in Pinellas county, we have a wide selection at great prices.  Call or visit us and let's talk about the best selection of high-quality tile, hardwood and laminate flooring in Pinellas county. We offer a free estimate and we're a family owned business. We love saving you money with the best prices and advice.
Don't look any further for quality floors at unbeatable prices. 
Your dream floor is out there, and we would love to help you find it.