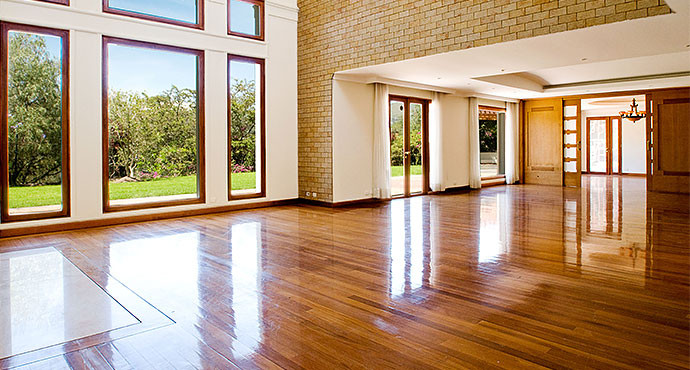 So, you want a fresh feel for your home, and you've decided that the floors are overdue for a new look. But before you jump in, you want to know what's hot for 2021. We've got the scoop on what floors and trending this year, and how to get a look that's not only on-trend, but that's going to suit your home for years to come. 
Color me trendy
The most up-to-date look in the world of flooring includes colors such as whitewashed, grey, cooler shades, lighter blondes, and natural tones. This year, you'll find that flooring color choices will be cooler and will feature desaturated tones, and you'll rarely see yellow or warmer tones.
Interiors are going to focus on natural, light, airy looks, and this is true of flooring. When it comes to materials, natural, hard surfaces are going to a big deal. We can expect to see lots of stone and wood looks, as well as natural flooring and textures. Aged looks and materials that look natural are likely to feature heavily.
Let's look at the top flooring styles sure to be popular in 2021.
Tile
We all love the classic, luxurious feel that tile creates, not to mention how virtually indestructible it is. 2021 will see tiles with detailed, decorative patterns such as geometric, floral, hexagon, and arabesque. Tiles are a great investment because they are not going out of fashion any time soon.
Laminate
A popular choice in both commercial and residential settings, waterproof and water-resistant flooring will be in demand this year. Light, airy colors such as honey and blonde will make spaces feel more open. Wide planks will be in vogue, especially those that mimic a rustic, realistic style. Laminate is an affordable and practical choice that will always be in fashion in our book.
Stone
Looks for stone flooring in 2021 are tipped to be slate (clean and edgy), limestone (a natural beauty), travertine (modern and designer), and marble (luxurious and unique).
Vinyl
Both natural, realistic wood and stone patterns, as well as more decorative looks, will feature when it comes to vinyl in 2021. We're delighted to see vinyl continue in popularity, because we have always found it to be durable, easy to clean, and a wise choice for busy homes.
Next-generation flooring
The trend among consumers is all about ethics. People care about where the materials came from, and how it affects society and the environment. This means that anything recycled, reclaimed, and eco-friendly is going to be top of the class. That includes hardwood and any flooring that uses natural, recycled materials.
Busy lifestyles are reflected in flooring this year. We're all looking for floors that are easy to care for, waterproof, and long-lasting.
American-made flooring is going to soar since consumers are conscious of putting dollars back into the American economy. Luckily, American manufactured products are known for their sustainability.
New year, new floors
Whether you're planning on flipping a home, or simply making your forever home feel cozier in 2021, Flooring Liquidators are happy to guide you. Get in touch to learn more about our expert fitters, free quotation, the best prices, and the ideal choices to suit your home. Let's get you floors that will dazzle in 2021.