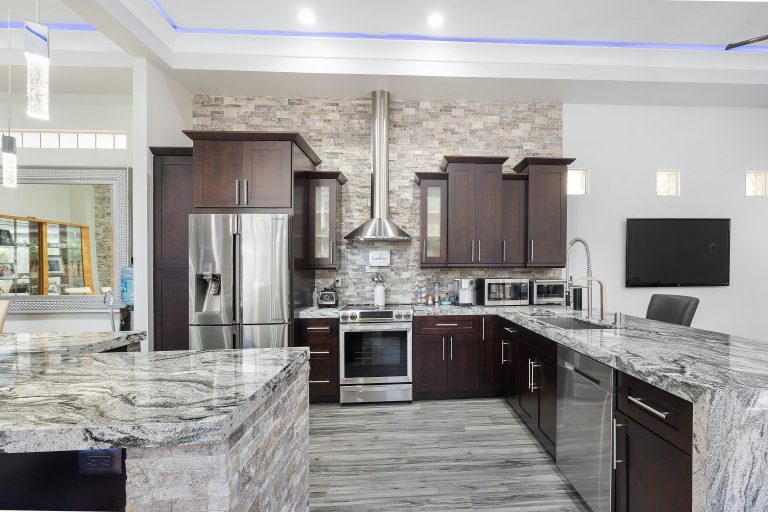 Boy, there's nothing like a pandemic to make you spend more time at home. And the funny thing about it is that the more time you spend in your beloved home, the more you start to notice the scratched and scuffed floors and the cracks in those tired old kitchen cabinets. Are we right?  
The truth is, it's always great to invest in your home – after all, it's your safe haven, your oasis after a long hard day. Like a bird feathering his nest, you work hard and you want the satisfaction of relaxing in cozy style. Investing in your house is like investing in the future. And let's be practical, your hard work and investment will pay off and you'll be surrounded with comfort. 
But particularly now, the time is right to take the leap on new interiors, because it's wise in times of chaos and uncertainty to invest in your property value. The more you put into your home, the more worth it'll hold, long-term.  
Step into style
The first thing you see when you step foot into someone's home is likely to be their flooring. If you're starting to notice that your floors are worn and dull, then they're crying out for a refresh. Treat them to a makeover. 
Choose from easy to install laminate, durable tile, the ever-popular waterproof luxury vinyl, or rustic hardwood.  We have styles and options to suit all budgets
Cabinets to Charm
Now, where do you spend a large amount of time in your home? For many, it's the kitchen. Whether you're entertaining, cooking a family meal, or helping with the homework, the kitchen sees a lot of action. No wonder your kitchen cabinets can get worn down – all that opening, closing, and years of use. Plus, has it been so long since you had them fitted that you can't remember why you chose that faded style in the first place? Maybe you've bought a new property and the cabinets are not exactly of this decade. We hear you.
You'd be amazed at what simply changing the kitchen cabinets can do to the entire look of your kitchen.  
Did you know that we also do kitchen cabinets? We're so excited to tell you all about it! (Stay tuned!)
Carpe Diem
There has never been a better time to invest in your home, and both floors and cabinets are an excellent place to start.
When the challenge of Covid-19 has lessened, and your family and guests step onto your new shining floor and into the kitchen to admire your swanky new cabinets, you'll be so proud to show them off. But just one promise, please. Remember to tell them who looked after you. After all, our loyal and happy customers tell their friends, who in turn become loyal and happy customers, who tell their friends. Well, we think you get the idea. People can't resist local, friendly experts, a family-owned business, the best prices, and a genuine dedication to quality. 
Call or visit us to chat about how our team at Flooring Liquidators can bring new life to your home.