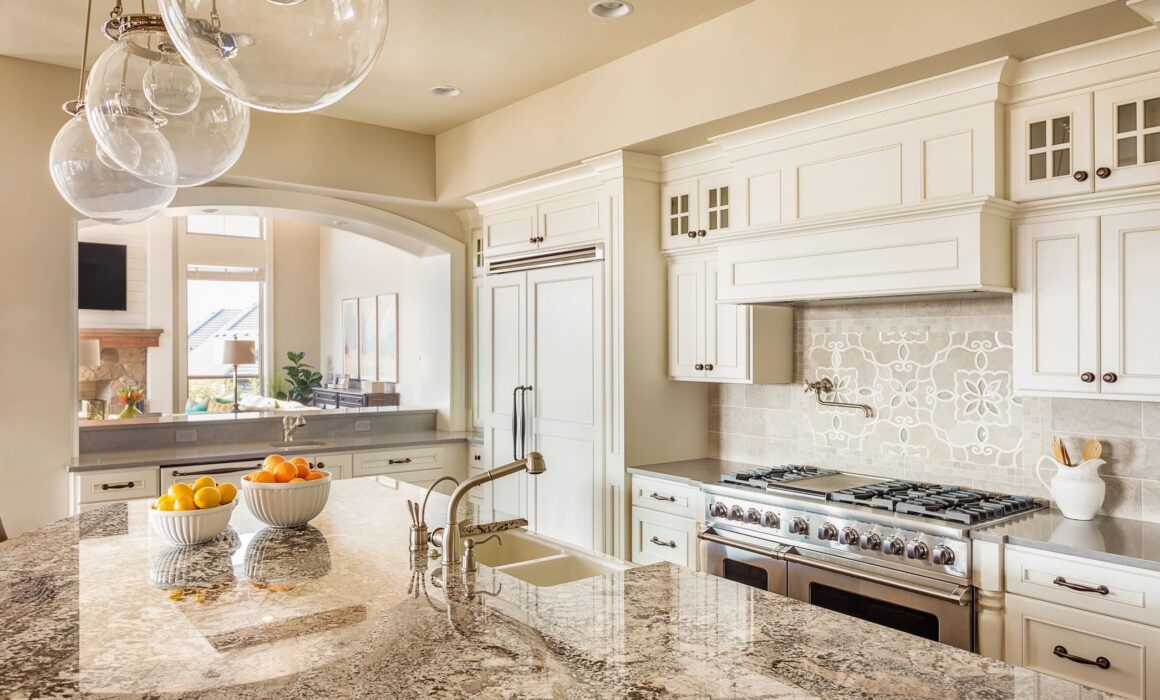 Whether you're redesigning your entire kitchen from top to bottom, or just injecting some instant style into a kitchen that's looking a little tired, the countertops are your starting point. Your choice of countertops will set the tone for the entire room. 
Will you go for pale or dark? Marbled, speckled, or plain? Smooth or textured?
Which materials do you like? Quartz, granite, or marble?
Let's be practical for a moment (while remaining impeccably stylish, of course) and consider what we use our kitchens for – baking, preparing hearty family meals, entertaining, or a combination of all of these things?
Stone countertops are popular, and always in style. Quartz, granite, and marble all look stunning and add value to the home. We're crazy for countertops, and love to plan dream kitchens. Let's explore the characteristics of each material.  
Quartz
Quartz gives a natural stone look. It's notoriously hard and is therefore extremely durable. Some say it's indestructible! Because it's not porous, no liquids can pass through it. This means that it's super easy to clean and remains germ-free and hygienic. 
Pro tip: be careful when placing a hot cooking pan and use a heating pad to prevent damage to the quartz from excessive heat.
Granite
Granite is a popular choice for both kitchens and bathrooms. Because it's a 100% natural material, each granite countertop is going to be unique. It's strong, so it resists chips and scratches due to cooking, and it's heat and stain-resistant. 
Pro tip: make sure that your installer knows how to seal the granite well in order to avoid the porous material harboring any bacteria. 
Marble
Want your kitchen to ooze charm? Want to enjoy that feeling of luxury? Then perhaps marble countertops are right for your kitchen. After all, marble is such subtle beauty and always has the wow factor. 
But there's more to marble than its good looks. If you love to bake, a marble countertop is heavenly. It stays cool, always at room temperature or below, so rolling out pastry on a marble countertop is a dream. You'll also be able to relax knowing that the marble is durable, and adds brightness, making smaller rooms appear larger. It's heat resistant, so it won't catch fire or burn, but you should always use a trivet.
Pro tip: wipe down your marble countertop daily using a non-abrasive cloth for best results.  
Helping you choose
So, if you want to introduce style and personality into the kitchen and show off the most used room in the house, but you don't know where to start, reach out. You'll be amazed at the selection that we have in store and how helpful we are. 
If you can dream it, we can do it. Talk us through your vision and let us guide you in the right direction. We're trusted, local experts, and your kitchen project is exactly what we get excited about.
Now, before you worry about the cost, although stone countertops look the business, they're surprisingly affordable. 
So, just give us a call for a free quote and we'll be more than happy to talk you through the options. Pop in, browse the samples, and meet the team. We can't wait!