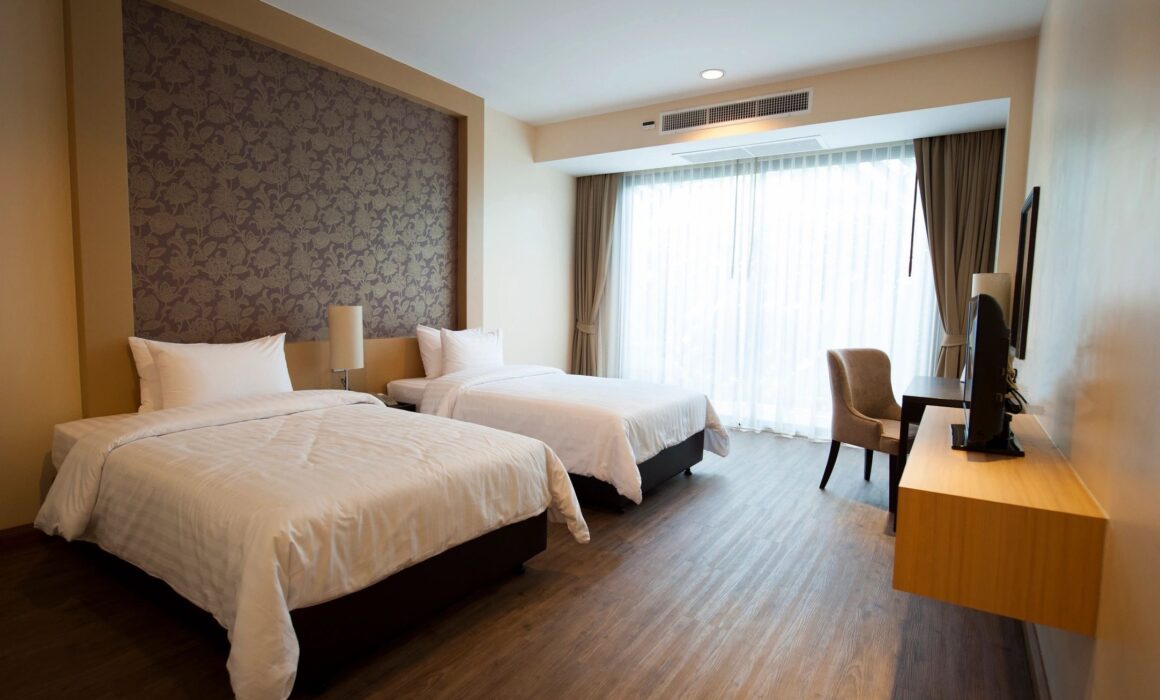 Make an impression with floors that dazzle, comfort, and stand the test of time!
As Hotel Zamora St. Pete Beach sold to a Minnesota real estate investor and developer for $34.7 million recently, we've been reflecting on the types of flooring that hotels should opt for.
If you manage a hotel or have responsibility for interior design choices, it's important to think about the impact that flooring can have. From bedrooms to kitchens, and from reception to corridors, dining spaces, and poolside, there's a massive choice of flooring for a hotel to get to grips with.
But whether your hotel is overdue a freshen-up, or you're starting with a blank canvas, watch your step! After all, one wrong move when it comes to flooring and you could end up with floors that are at best dull and boring, and at worst, unsafe and costly.
Let's look at the best choices for hotel flooring.
Floors to wow
How many hotel bathrooms have you seen over the years? OK, now describe them. We bet they've morphed into one.
Now, imagine the unlimited choices when it comes to bathroom tiles for walls and floors. Think of colors, shapes, and styles for putting an individual stamp on the hotel. Think mosaic tiles for memorable patterns. No longer boring, right?
When you choose floors for your hotel's common areas such as the reception, bar, and dining room, you've got an opportunity to impress guests. First impressions count, and that's where stylish ceramic tiles can wow first-time or returning guests.
Floors to last
The footfall through high-traffic areas in a hotel can explain why floors can look worn and fade after a short time. You need to go for durable flooring that's going to withstand wear and tear in areas such as reception, corridors, and dining areas. Otherwise, you'll be repairing and replacing sooner than you'd budgeted for.
Laminates can resist scratches and scrapes and are a super option for busy hotels. They're not expensive, which is good news when you're flooring a large area, and they're easy to install. Many brands offer advanced scratch and dent resistance technology, and some even offer splash-proof and waterproof coatings.
Floors to comfort
People come to hotels to relax, unwind, and feel a little luxury. They want to step out of their bed or shower onto flooring that feels good. Opt for flooring that's comfortable underfoot in guest bedrooms and spa rooms.
We recommend hardwood floors with a stylish rug, or luxury vinyl – both are beautiful to look at and comfortable to walk on.
Floors to keep us safe
When guests think about your hotel, you want them to think of style and elegance, not cracks and tears in the flooring. Apart from bringing down the overall image of the hotel, faulty flooring such as dips, rips, and tears in flooring or loose floorboards can lead to stumbles.
Remember, guests wear a wide variation of footwear such as high heels or flip-flops, which can mean a higher number of falls. This is especially true in high-traffic areas such as corridors, reception, and dining areas. Guests and staff will be at higher risk of slips in wet areas such as the spa or pool.
Go for slip-resistant Vinyl as the safest choice for your guests and staff.
Making a 5-star flooring choice
As a business owner, it's important to make the right choices when it comes to the interior of your premises. New floors are an opportunity to freshen up the look of a hotel. And floors can say a lot about a hotel. So, are your hotel floors telling guests that the hotel is tired and shabby, or fresh, modern, and comfortable?
Talk to us. We're flooring experts, and we have fitted out countless hotel and commercial spaces. Because we want you to make the right choice, we'll guide you with our honest opinions and years of experience. Call to book a free estimate.