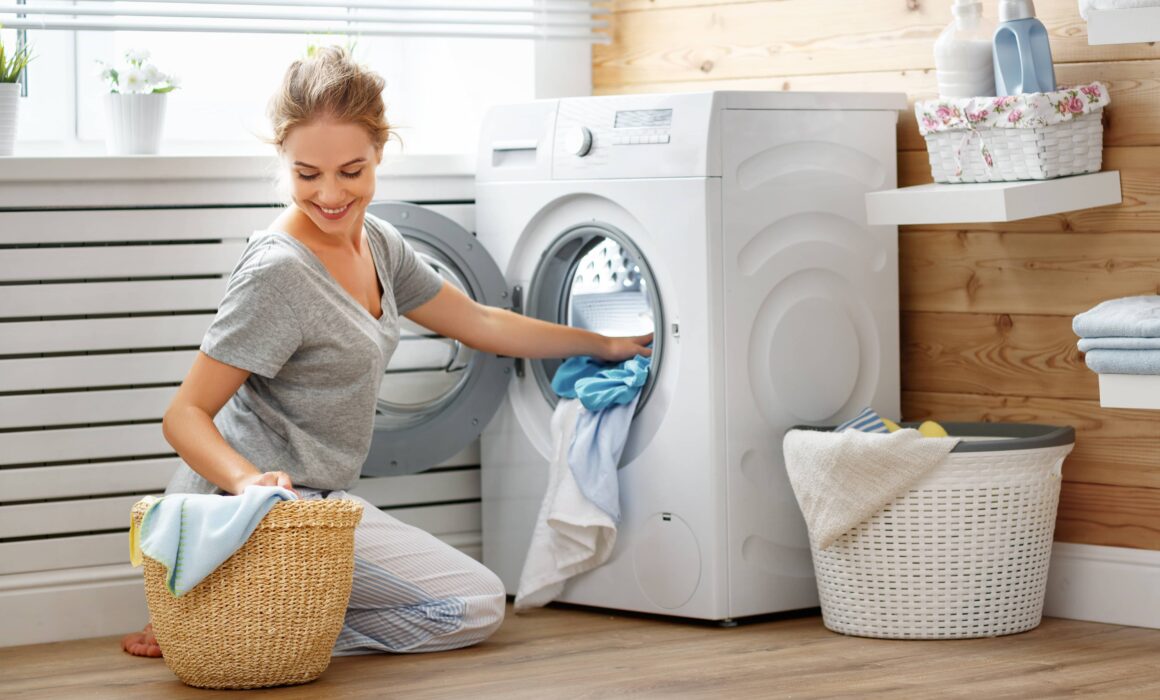 It occurred to us recently that a huge amount of thought and consideration is put into what kind of flooring to choose for the kitchen, sitting room, bathrooms, and entrance hall. And this makes sense: these are the rooms we spend a lot of time in and that our visitors see.
Yet if you've got a laundry or utility room, this often gets overlooked when renovating. 
Well, not anymore.
Today at Flooring Liquidators, we're focusing on the most hardworking room of your house: the laundry room. 
Why does it matter what flooring you choose for a laundry room?
Whoever handles the laundry in your house can tell you that the type of flooring in a laundry room matters! When dealing with heavily soiled laundry, detergent spills, high footfall, and water splashes, suitable flooring in the laundry room is key. 
So, let's get it right!
If you're flooring a new house or extension, or if you're renovating an older home, we want to help you to make an informed decision on beautiful and functional floors. Let's explore vinyl, laminate, and tile flooring for utility or laundry rooms.
Waterproof vinyl flooring
Vinyl flooring is a popular choice for laundry rooms due to its exceptional water resistance and durability. It can withstand moisture and spills without warping or staining. And it's so easily cleaned. 
Vinyl flooring comes in various styles, including tile, plank, and sheet, offering a wide range of design options to match the theme of your laundry room. Additionally, vinyl is relatively easy to install and maintain, making it a practical and cost-effective choice.
Waterproof vinyl is a perfect choice for laundry rooms, providing a warm and inviting ambiance while ensuring easy maintenance and long-lasting performance.
Ceramic or porcelain tiles
Porcelain or ceramic tiles are another excellent option for laundry room flooring. They are highly resistant to water, stains, and scratches, making them ideal for the constant demands of laundry space. These tiles are available in a multitude of colors, patterns, and sizes, giving you the freedom to create a stylish and functional laundry area.
Laminate is such a great alternative to hardwood flooring, and it has a variety of wood finishes, so you can find a style to match any decor. If your laundry room is an extension to another room you're trying to match with, consider this inexpensive, durable option.
Laminate flooring is often much more affordable than comparable hardwood options. It's supremely durable, and most brands offer advanced scratch and dent resistance technology, and some even offer splash-proof and waterproof coatings.
Finally, it's very easy to install, with no glue or adhesives required. It simply snaps or clicks together.
Cleaning up on flooring choices
As you can see, there's a laundry list of reasons why waterproof vinyl, tile, or laminate could be the perfect choice of flooring for your home. Consider factors such as water resistance, ease of maintenance, and overall design to make a well-informed decision. 
Let's pick floors for your laundry room that will ensure functionality, durability, and look great. By selecting the best flooring for your laundry room, you can transform this often-neglected space into an efficient, attractive, and beautiful area for your daily chores.
With options like vinyl flooring, porcelain or ceramic tiles, and laminate flooring, you have a great range to suit your taste and budget. 
At Flooring Liquidators, we are always enthusiastic to talk you through your flooring options. We can walk you through the massive selection of vinyl, tile, hardwood, and laminates until we find the flooring that suits your home best. 
Describe your next home project to us, and chat with our experienced team.